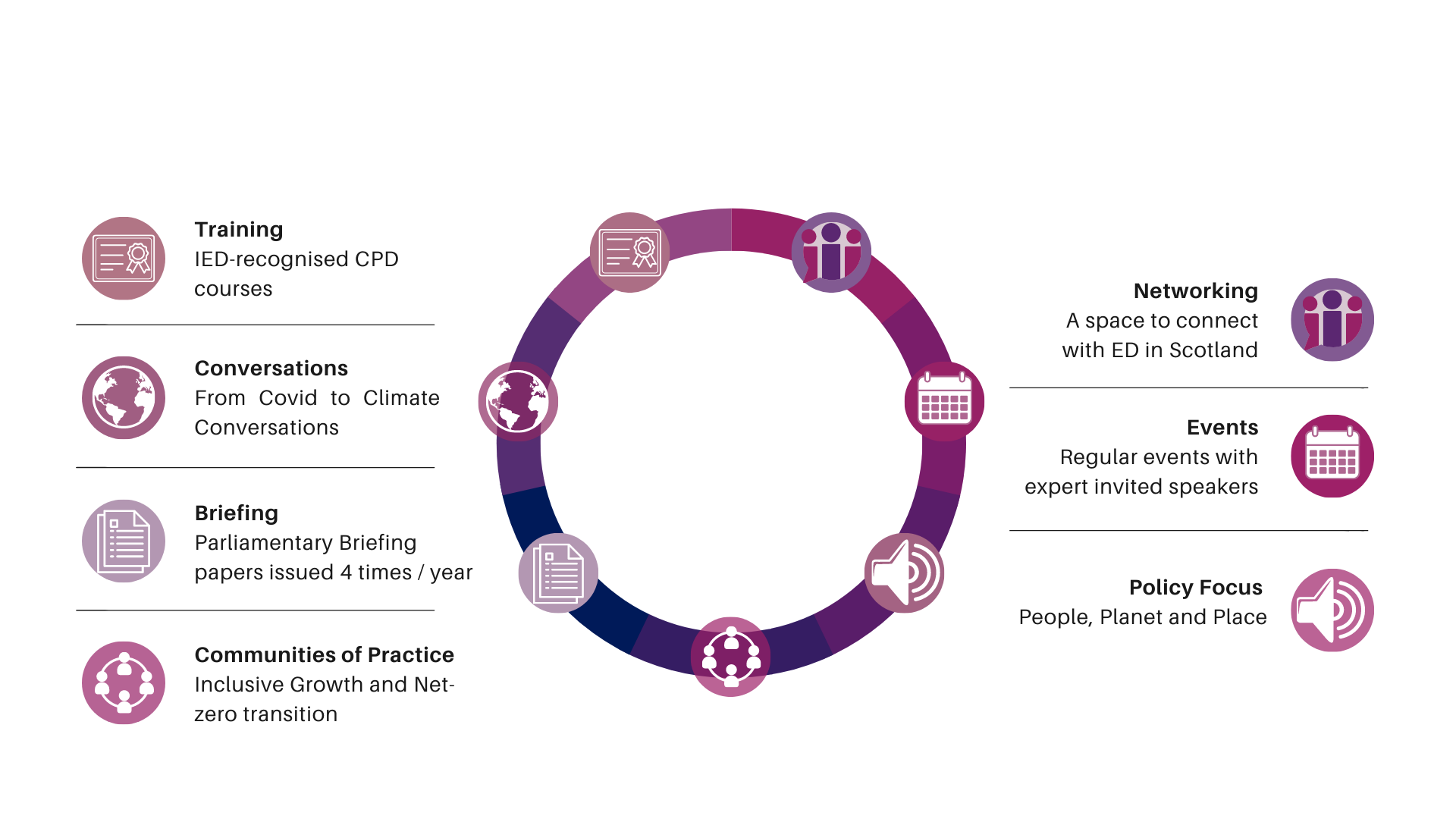 EDAS Strategy Update (draft): Liz McEntee, Chair
To all our EDAS members,
I'm pleased to share with you EDAS's draft strategy for 2021-24.  This strategy is my first as Chair of this organisation and follows two development sessions held in January and February as well as a meeting with members in March.  It sets out our vision and direction of travel for the next three years and aims to be broad enough to encompass the key  themes of People, Place and Planet, that we feel will have resonance during this timeframe, whilst ensuring a focus on specific areas such as, recovery from the pandemic and EU exit, as well as developing priorities such as, wellbeing, inclusiveness and the green economy.
We are clear as a Board that we want what we offer to meet our members needs through the events, CPD, information and conversation spaces we create. Our aim is to offer high level expertise, learning and dialogue that is insightful and pragmatic so that it translates into practice on the ground.
There is no doubt that the next few years will be challenging in the aftermath of 2020 and Scotland's economy will be front and centre in terms of focus, alongside public health. We are keen to broaden our conversations and to widen our membership base, knowing that it is going to take all contributors – public, private and third sectors – to build and strengthen our economy going forward.
I hope that what you read reflects these aspirations but I am keen to hear your views as we sign off the strategy and develop our detailed plan for 2021. We are first and foremost a member organisation, so what we offer needs to have meaning and value for you. We'd love to hear your feedback and ask that you answer the following questions:
Do the priorities in the strategy have resonance with you? 
Have we missed anything you consider to be important?
Will our "offer" meet what you are looking for?
What, for you, is the greatest priority over the next year as we develop our operating plan?
If you could respond by 16th April to [email protected] that would be most appreciated.
Meantime, may I wish you a well deserved Spring break and look forward to seeing you again at future EDAS events.
Liz
Liz McEntee
EDAS Chair